Rev. James G. Carlisle 
A Circuit Rider 
1801-1883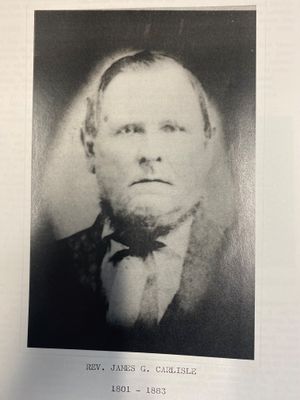 James Glenn (Jimmie) Carlisle was a Methodist Circuit Riding Preacher. He served the Starkville District as Presiding Elder, which included Choctaw County during the Civil War. Frank Townsend states in his History of Salem Church, that he in all probability, was the first preacher that served that church. Miss Addie Buck in her History of South Union mentioned him in her list of early Camp Ground preachers. Mr. Richard Moss, in writing about Pensacola, stated that Archie Moss, Humphrey Buck, Parson Hainey and Jimmie Carlisle were all great believers in arbitration of disputes and served in that capacity. 
Rev. Carlisle was well known in these parts. According to old records, among other appointments, he served French Camp Ct. in Yazoo District in 1870-71. He was appointed to Lagrange Circuit in 1871-73. He served Louisville in 1873-75 and his picture hangs in Frist Methodist Church of that town until this day. 
He had two sons, a son-in-law and a grandson who became Methodist ministers. He had two sons who were physicians and he was the great grandfather of the late Attorney Jack Carlisle who practiced law in Choctaw County for over forty years. 
The following is written of him: 
(Memoir printed in Journal for 1883) 
James G. Carlisle was born on the 10th day of September, 1801 Union County, South Carolina. His father was Rev. Coleman Carlisle whose work was precious to the saving of his own household as well as others. Of a large family all became believers at an early age, and it is believed so continued to the end. The subject of this sketch was conceived in 1829. In the year 1832 at Neely's Camp Ground in Alabama, he was licensed to preach. In 1836 he was ordained Deacon by Bishop Andrew, and Elder in 1837. In the year 1848 he was admitted to full connection and transferred to the Mississippi Conference. His work in the Mississippi Conference was thence forward and faithful, owned of God and profitable for the church. He died October 9, 1883. 
NOTE: In 1870 the North Mississippi Conference was formed and took in Attala County as well as Winston, Oktibbeha, Webster, Choctaw, Montgomery, Carroll, Holmes, Leflore, Sunflower, Washington from the Mississippi Conference into the North Mississippi Conference, among them being JAMES G. CARLISLE.
Copied from Ye Olde Scrapbook: A Portrait of Choctaw County Before the World Changed by Virginia Patterson Carlisle